Although sold as the Solomark 'Moon & Skyglow Filter' there is no manufacturer or distributor's name on the filter housing itself. It seems fairly well made, with an aluminium housing, male & female threads, and decent quality glass although I see no evidence of coatings. With its distinctive serrated crown on one side of the housing it is reminiscent of GSO filters, although I don't think it is actually made by GSO. It is supplied in a nice but cheap plastic case with a foam insert. This was a bit tricky for me to open at first, but is relatively easy when you get the knack. In preliminary daylight testing it does tend to work quite well as a contrast filter, although, compared directly with a Baader Neodymium filter the image was distinctly darker. I think this background darkening effect is basically what these sort of inexpensive filters do best.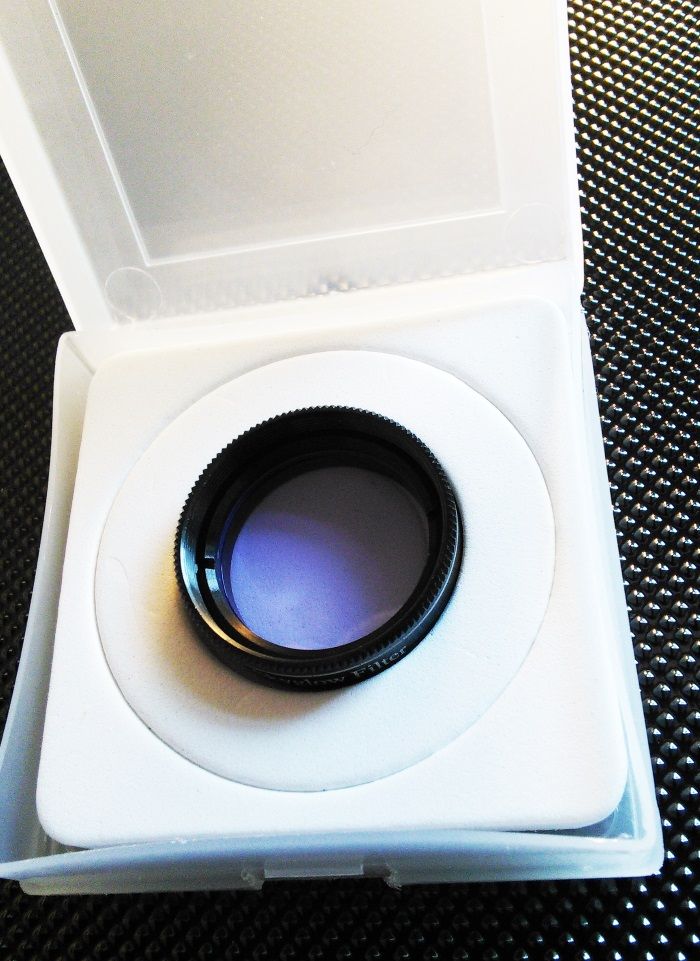 A lot of street lighting is now LED, and not produced by low pressure yellow sodium vapour lamps, so I don't know the relevance or efficacy of blocking these particular wavelengths (589.0 and 589.6 nm) now. I do think that the contrast change for DSO viewing would be good though. I'm also pretty sure this will be an effective contrast filter for lunar viewing. Although I don't think it particularly acts exactly like a neodymium filter and wouldn't expect it to. I discovered that the Solomark threaded onto all of my diagonals (Celestron, Orion, GSO, Omegon, Antares), except for a William Optics 90°Amici prism, where it threaded for a few turns then seemed to get stuck. Although it did thread onto a 45°William Optics Amici prism diagonal. I'm guessing the thread isn't the standard M28.5 x 0.6 like Baader and GSO are. It also threaded quite happily onto Celestron, Sky-Watcher, Meade, Bresser, Vixen and TeleVue eyepieces. I had threading difficulties with one or two Japanese Abbe orthoscopics (Kasai, Astro Hutech) but from previous experience I more or less expected that.
After some examination of my own Solomark 'Moon & Skyglow' filter and comparing it with the portrayals of it on Amazon and elsewhere (which differ slightly to what mine actually looks like) and other similar filter representations, I'm pretty convinced it has the same origins as the Sky-Watcher 'Light Pollution Filter' and others. I'd wager they all come from the same factory or at least the housings do. The Solomark was roughly half to a third the price of what the Sky-Watcher generally retails at. It would be interesting to know how similar, if not identical, these filters are as there is some discrepancy in the individual prices. Basically, the Solomark is an inexpensive, but decently made, contrast filter.
Hi, you are viewing as a guest, You can only see this first post in this topic. if you sign up you get access to other goodies you can't even see as a guest, including video tutorials on imaging and processing, scope modifications and even member discounts on gear!
So, give us a try, what have you got to lose! Oh, and if you stay, when you reach 50 posts you get access to MORE goodies! What are you waiting for!