I normally go to astro camps monthly as some of you are aware, but in the winter I have to resign myself to my ghastly Bortle 8 home location in SE london.
So I decided this was the time to do experiments and get things working.
1. Check on the collimation of my SW130PDS which got out of collimation back in the late summer and has been a nightmare to get it sorted - thanks to one of my chums. So getting an image to test collimation.
2. Get the spacing right in my Atik460EX which has been a bit hit and miss due to having several scopes and cameras and using a variable spacer and it invariably got nudged.
3. Try to see if I can use a Hub on my W7 laptop so I can use EQMod. Never really been able to use it before unless I had two laptops running as Hubs just would not work reliably, always pinging and disconnecting and sometimes packing up.
4. Get Plate Solving working with APT.
So...............................
Over the last few nights I managed to get 7 hours imaging time (was at the theatre last night so missed the 3rd clear night).
I needed a target that was doable from Home, with bright stars to check my Spikes. Can't do the North as house in the way, can;t do the South as bank of Trees in the way.
The targets chosen both appear for a short while taking it in turns before passing behind a tree for about an hour and then shortly after they reappeared cross the Meridian.
1. I think was successful (see image below).
2. Was also successful after finally finding some fixed spacers.
3. Was successful so I can only conclude that having ditched my old Vista imaging laptop and using a slightly newer W7 has solved that problem. This proved very convenient with the 2 target/ tree/ Meridian challenge.
4. Half accomplished in that it now works on the simulator. I will try it out with a live sky, real camera and mount next clear sky and this doesn't matter if there is a Moon up.
Anyway, enough waffle.
Here is the first resulting image - Not intended to be a pukka image as it was just for testing the collimation and spacing. It needs bags more data but as said, only for experimental purposes.
In total I took just over 5 hours, but half of this was in RGB for the stars as I stupidly did 1 1/2 hours on the RED channel instead of the Ha channel wondering why the nebulosity showing was rather faint, so would have had 1 1/2 hours more on Ha.
So in fact the main part of the image is only 2hours 40 minutes.
Ha 9 x 600secs
Oiii 5 x 300secs binned x 2
Sii 4 x 300secs binned x 2
RGB (stars only) 2h 30mins
SW130PDS, Atik460EX, HEQ5
EQMod
Narrowband version only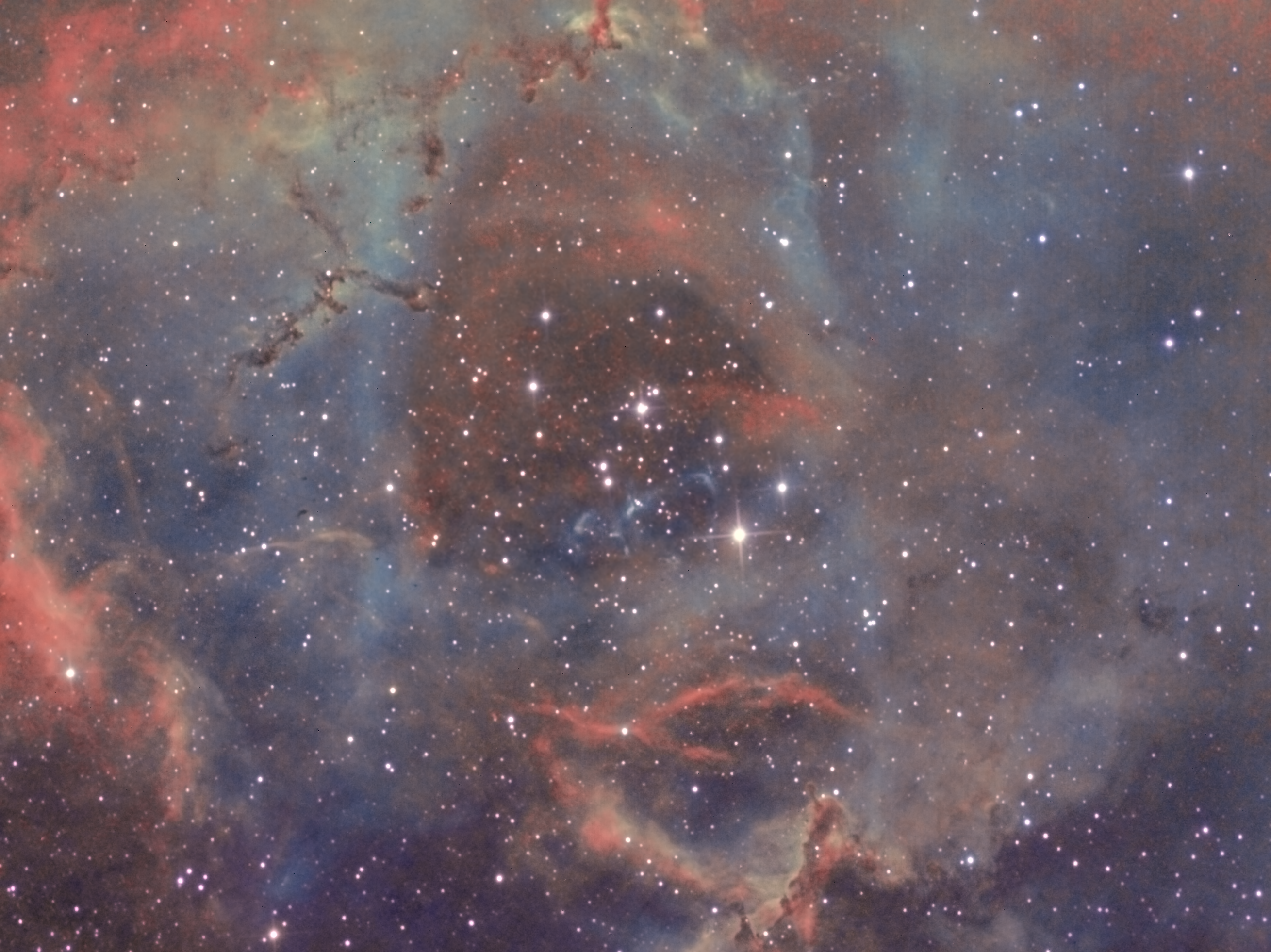 NB with added RGB stars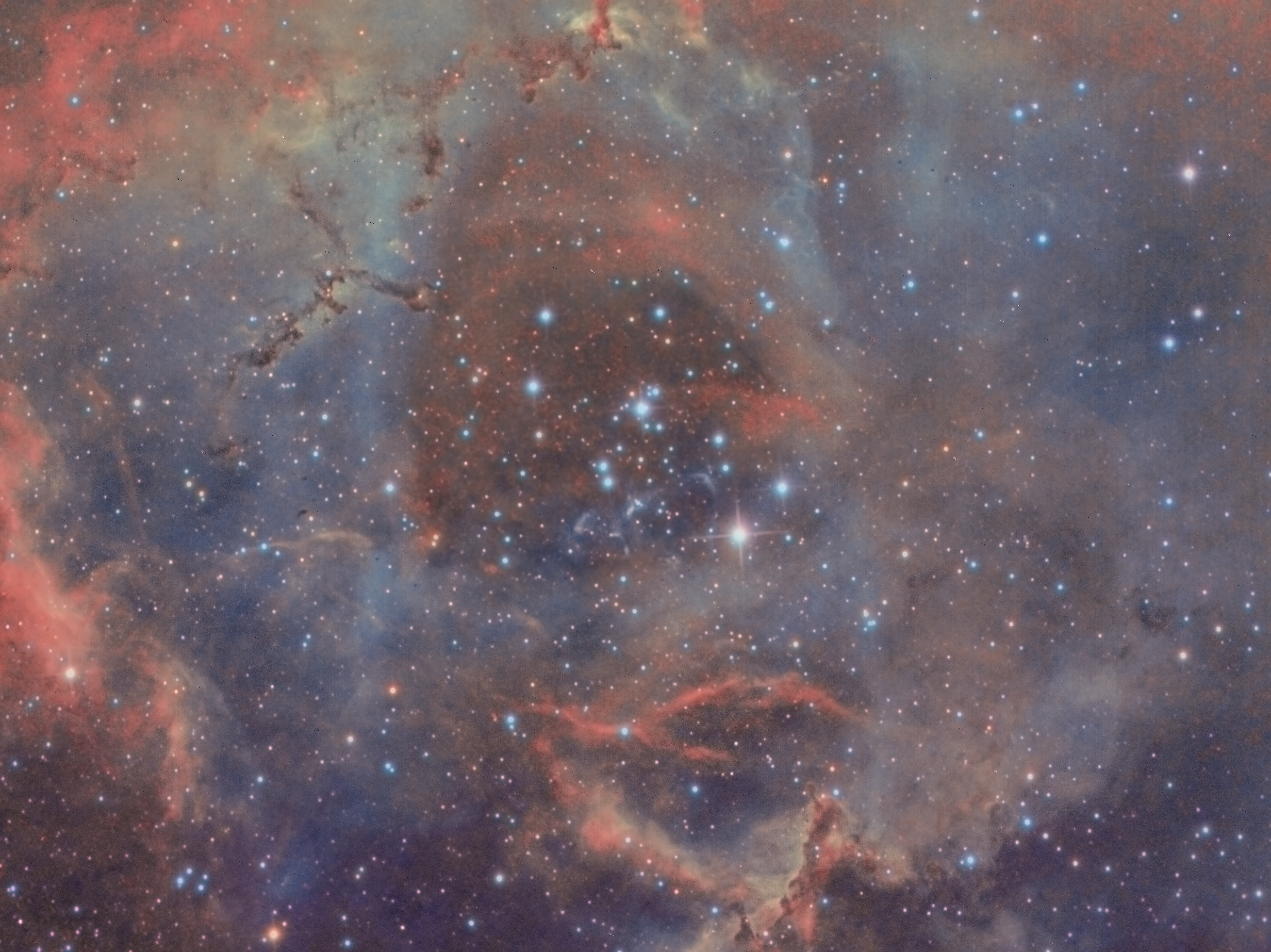 Carole
Hi, you are viewing as a guest, You can only see this first post in this topic. if you sign up you get access to other goodies you can't even see as a guest, including video tutorials on imaging and processing, scope modifications and even member discounts on gear!
So, give us a try, what have you got to lose! Oh, and if you stay, when you reach 50 posts you get access to MORE goodies! What are you waiting for!