Hi all,
I've been trying to get a decent image of Jupiter the last couples of weeks fighting clouds and a lot of technical problems. When I finally got the telescope and the finder scope aligned and the focus right using a crater on the moon and started to getting AVI-videos, I was disappointed in the low-quality rating Auto Stakker 2 gave on analyzing them. For three nights, I tried with different settings unable to improve the quality. Admittedly on the laptop screen, Jupiter was boiling in in the sky probably because it was more than 4 degrees below the horizon. A year ago Jupiter was almost 10 degrees higher. The videos where no longer than 130s to avoid the fast rotation of Jupiter blurring the image.
I used the Carbon Newtonian 305/1500mm with the ZWO ASI120MC Camera with a 3x Barlow. Processing was done with AS!2, RegiStax 6 and Photo Shop.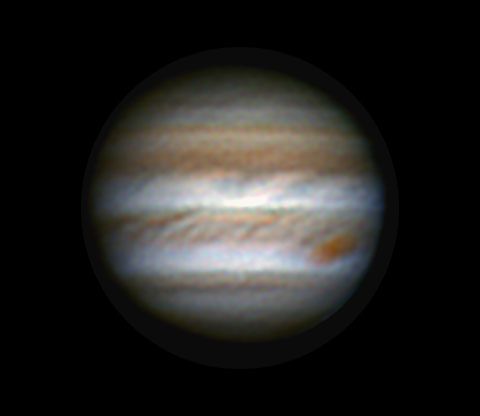 Cheers,
Hi, you are viewing as a guest, You can only see this first post in this topic. if you sign up you get access to other goodies you can't even see as a guest, including video tutorials on imaging and processing, scope modifications and even member discounts on gear!
So, give us a try, what have you got to lose! Oh, and if you stay, when you reach 50 posts you get access to MORE goodies! What are you waiting for!